27/02 2011 af webmaster
SPECIALTY SHOW AND SPRING PARTY MAY 8TH, 2011 AT LYNGBY STADION COPENHAGEN
A very warm welcome to you all to this years fun double show north of Copenhagen and with two breed specialists as judges.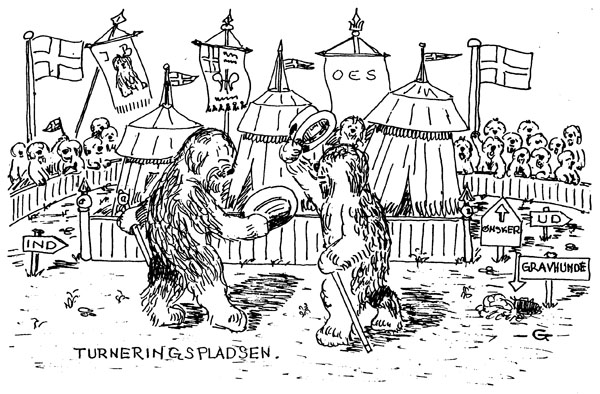 Saturday May 7th DKK International Show at Hillerød with the Norwegian breed specialist Mr. Leif Ragnar Hjorth. This show is also Crufts qualifying.
Saturday evening at 7pm we all meet at the Fortunen Inn right next door to the DeerParque in Lyngby where cocktails and dinner is served in the company of next days judge Mr. Colin Barnes from the Macopa Kennel in the UK . Dinner is Dkk. 200,- ( Euro 27 ) and dogs are welcome in the restaurant if needed.
Accomodation to be recommended nearby Lyngby & Hillerød where our dogs are more than welcome:
Kro Fortunen, 2800 Lyngby Tel: 45870073 Dkk 650,00 /875,00 w. bath + wc
Country House, Holmeskovvej 5, 3480 Fredensborg Tel: 48480238 Dkk 450,-
Comwell Hotel, Kongevejen 495, 2840 Holte Tel: 43682329 Dkk 700,-
Sunday May 8th at 10 am the start of this years Specialty Show at the outside green area at Lyngby Stadion.
Judge is the English breed specialist Mr. Colin Barnes / Macopa Kennel UK, who will be judging for the very first time in Denmark, so let's make sure Colin Barnes gets a large entry of beautiful OES'es from all over Europe.
Snacks and cold drinks will finish the day celebrating all participants and their achievements, along with hand-over of trophies and a photo session.
Gifts, donations and presents are so very welcome along with any advertisement in the show catalogue ( 150,- 1/1 page & 75,- ½ page incl. 1 photo )
Kindly contact Lisa Nielsen at lisa@danish-delight.dk
Any items you wish to sell from our shop will be a true pleasure just advise Dorthe Madsen (dorthe-ole.madsen@privat.dk) and we charge you only 10%
Entry deadline April 3rd via hundeweb or directly to Dorthe Madsen for the Specialty Show.
So put your hat on and decorate it with a flower or two, grab your dog and a chair and lets welcome spring and summer which we have been waiting for, for such a long time. Let's have a fun and enjoyable weekend together with our beautiful Old English Sheepdogs and all of their fun and life loving owners here in Denmark.
OLD ENGLISH SHEEPDOG KLUBBEN I DANMARK
Dorthe * Ada * Claus * Lisa * Anette * Niels * Christa * Povl